Newtown Castle is located in the West of Ireland, at about a mile and a half distance from the picturesque village of Ballyvaughan.
Eircode H91 H299
Coordinates : 53°06′14″N 9°10′09″W / 53.103861°N 9.169228°W / 53.1033707,-9.1715709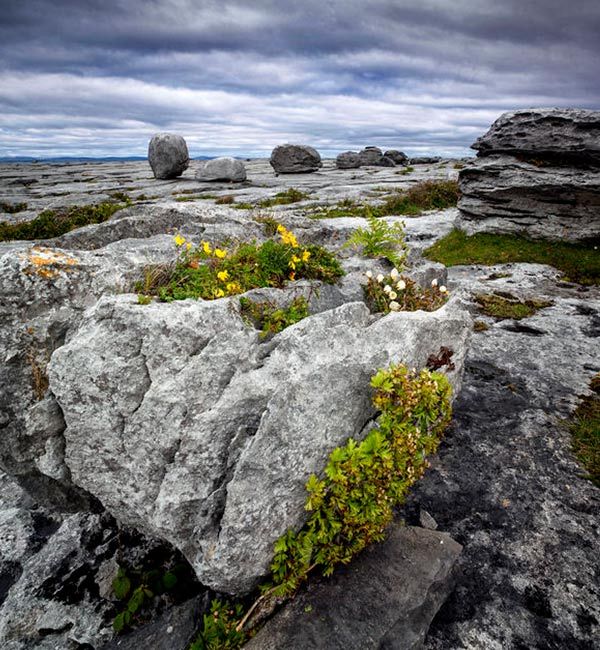 The Burren
Situated in the middle of the Burren region, Newtown Castle is considered a hidden gem, one should not pass by without visiting.
The Burren itself, often referred to as "the fertile rock" – is one of the biggest karst limestone areas in Europe.
In 2011, the Burren and the Cliffs of Moher were awarded the designation of UNESCO Geopark. The status is accorded by UNESCO to sites worldwide which are considered of universal geological significance.

In 2021, on its 10th anniversary an updated Burren & Cliffs of Moher UNESCO Global Geopark brand was relaunched to honour the distinction of being part of the UNESCO family.
FIND OUT MORE
Did you know?
The Burren is the only region in the cool, temperate world where livestock are transferred to uplands in winter.
27 species of wild orchids grow in Ireland and the Burren boasts 23 of this national total.
Caher river in Fanore is the only river in the Burren that flows entirely over ground from source to sea.
The Burren has one of the highest densities of breeding pair cuckoos in Ireland.
Tower houses were the castles of the elite in Ireland from 1400 to 1650. There are three cylindrically shaped tower houses in North Clare – Newtown in Ballyvaughan, Faunarooska in Fanore and Doonagore in Doolin.
30 of Ireland's 32 butterfly species have been recorded in the Burren.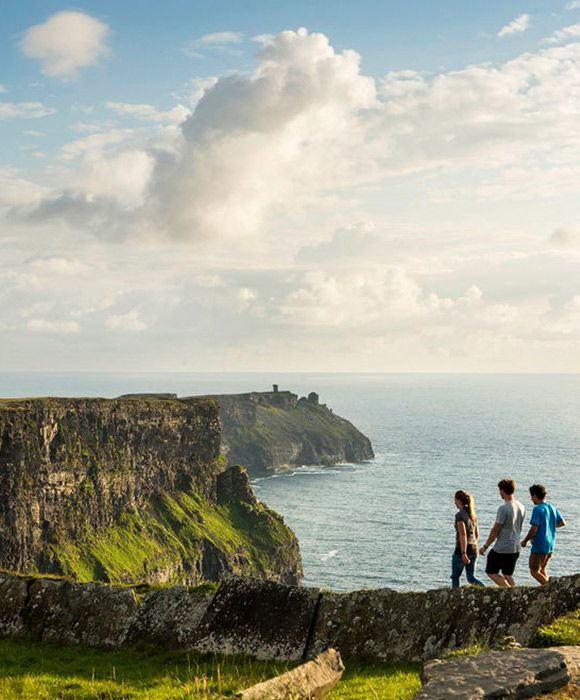 Burren Ecotourism Network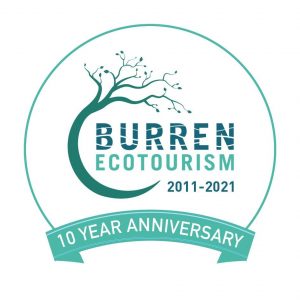 Since 2019, Newtown Castle has become an active member of the Burren Ecotourism Network  (BEN) – a group of businesses who are committed to the promotion of responsible tourism that conserves the environment and improves the well-being of local people.
We colaborate closely with many members of the BEN and are happy to support the local great quality services they provide. Please check out the full list of BEN members here, many of whom are our recommended suppliers.
Leave No Trace in the Burren
Firmly believing in the benefits of the 'Leave no trace' programme, we encourage visitors enjoy the outdoors responsibly, by following these essential seven steps:
1. Plan ahead and prepare
Where possible, use public transport, walk or cycle, especially in the Burren country side
2. Be considerate of others:
Respect the people who live and work in the countryside,
Park appropriately – avoid blocking gateways, forest entrances or narrow roads.
Take care not to damage property, especially walls, fences and crops.
Respect other visitors and protect the quality of their experience.
Let nature's sounds prevail. Keep noise to a minimum.
3. Respect farm animals and wildlife:
Dogs should be kept under close control and should only be brought onto hills or farmland with the landowner's permission.
Observe wild animals and birds from a distance. Avoid disturbing them, particularly at sensitive times: mating, nesting and raising young (mostly between spring and early summer).
Keep wildlife wild, don't feed wild animals or birds
Farm animals are not pets; remain at a safe distance.
4. Travel and camp on durable ground
Concentrate use on existing tracks and campsites.
To avoid further erosion, travel in single file in the middle of the track even when wet or muddy.
Keep campsites small and discreet.
Aim to leave your campsite as you found it, or better.
5. Leave what you find:
Respect property and leave gates as you find them (open or closed).
Preserve the past: examine – without damaging – archaeological structures, old walls and heritage artefacts e.g. holy wells, mine workings, monuments.
Conserve the present: leave rocks, flowers, plants, animals and all natural habitats as you find them. Fallen trees are a valuable wildlife habitat; do not remove or use for firewood.
Do not build rock cairns, structures or shelters
6. Dispose of waste properly: "If you bring it in, take it out" – take home all litter and leftover food
7. Minimise the effects of fire and avoid burning plastics or other substances, which emit toxic fumes.
To find out more please visit www.leavenotraceireland.org